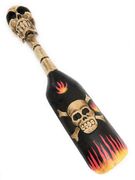 Here is a skull & bones paddle/oar with flames featuring a hand carved skull and hand painted. This cross bones paddle will be a great addition to your bad boy theme room.

Specifications:

- Measurement: 22" X 4.5"

- Wood: color black, red, yellow and white

Perfect piece of decor for your skull and bones theme room or pirate decor!

This paddle would be perfect as tropical wall decor for a South Seas Island style decorating theme. Create a sense of drama with this exotic piece of art!



Copyright 2006. Hamakua Trading LLC, P O Box 30, Ninole, HI 96773