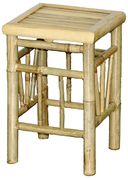 Details of the bar stool:

Dimensions: 18"H x 12"L x 12"W

Natural Bamboo Color

This unique bamboo pedestal bar stool would be a great addition to your beach bar or luau. Transform your lanai, patio or pool area into a tropical paradise you've always longed for...

This is THE REAL THING!! Get yours today!

Shipping Cost to Continental USA: $22.50. Please contact us for other locations.



Copyright 2006. Hamakua Trading LLC, P O Box 30, Ninole, HI 96773