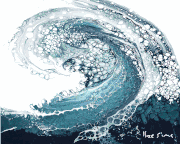 LAVA and OCEAN ART PRINTS

Lava and Ocean art are inspired by the ongoing Kilauea eruption, Hawaii's tropical paradise and fabulous beach parks, uniting fantasy and reality in vibrant images of nature.

Prints are made on metallic paper and have a beautiful glow and depth to them compared to photo luster paper. This method captures the richness of the original paintings beautifully. Bring a piece of the islands home today... Perfect for you tiki bar or Hawaiian Luau!