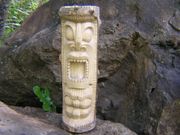 This wooden Ku totem - Tiki God of strength, war, healing and more... was carved inside the log and measures 13 inches tall by 5 inches (33cm X 12 cm).

Made of crocodile tree.

Great addition to any Tiki collection!

The sculpture has realistic facial features and a powerful presence. For centuries, tiki statues have been a form of communication across all cultures. In Polynesian culture, it is believed they were with the spirit of the statue and will ward off evil spirits. These exotic South Seas sculptures are perfect as tropical island decor. Also great for your tiki bar or luau or as outdoor garden art. It's presence tells visitors: this guy really digs this crazy art!

Shipping Cost to Continental US: $28.50. Please contact us for other locations.



Copyright 2006. Hamakua Trading LLC, P O Box 30, Ninole, HI 96773