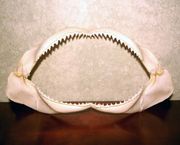 This is an authentic sharks jaw of a shark which was captured in the Indo Pacific Ocean.

Details:

Weight: less than 1 lbs; Width: 10" to 11"

Additional Comments:

This is not a reproduction, this is THE REAL THING! Each shark jaw is original and unique and might vary slightly from the picture. A cool tiki decoration for a tropical look or island decorating theme!

Also a great gift idea with MUCH ALOHA...

Shipping cost to Continental USA:$12.50 Please contact us for other locations.



Copyright 2006. Hamakua Trading LLC, P O Box 30, Ninole, HI 96773