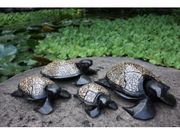 This primitive Turtle Carvings feature turtles designed with shell inlays on their backs.

Details:

- Quantity: 4 turtles

- Measurement: 5, 6, 8 and 14 inches.

- Wood: pine with antique finish

This beautiful piece of Hawaiiana is also a fine example of Oceanic Art. A must for a tiki collection!

Are you decorating your home with a Hawaiian theme? These exotic turtle sculptures would be great as tropical/island style decor. Add drama to your room with their powerful presence!

Also a great gift idea with MUCH ALOHA...

Shipping cost to Continental USA: $22.50. Please contact us for other locations.



Copyright 2006. Hamakua Trading LLC, P O Box 30, Ninole, HI 96773