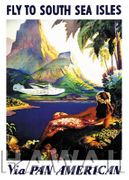 VINTAGE HAWAIIAN POSTERS AND PRINTS

Adjust your time...and set your clocks back about 70 years! Hawaii's golden years of travel began in the 1930's when the luxury cruise liners and flights were introduced to Hawaii. These vintage advertising posters were presented in a variety of aviation, surfing and hula themes to entice visitors to the islands.

Are you decorating your home Hawaiian style? Or do you just want to add a little tropical warmth? Transfer your room with these retro, quality giclee prints and create the old world atmosphere and elegance you've been longing for...